Advanced, Customizable Serialization
Generate anything from the simplest serial numbers to the most advanced, totally custom serialization sequences. Increment or decrement by any interval and specify any rollover threshold and restart value. Choose from numeric, alpha, or a variety of predefined alphanumeric character sets. Even specify your own totally custom sequences.
Six Types of Variables
You can use six types of variables in Label Spirit:
System Variable.

Date, Time, Now, Page#, TotalPages, Label#, TotalLabels, Record#, TotalRecords, Label#OfCurrentRecord, TotalLabelsOfCurrentRecord, Row#, Column#, etc.

Expression Variable.

You can define your own variables in Label Spirit: called expression variables,
it's very useful in advanced label designing.

Form Variable.

For form variable (keyboard input variable), you can enter the value at print-time. these variables can specify a data type: Normal, Integer, Float, Date, Time, etc. for example, if you define a variable named "Hire Date", data type is Date, when you print label, Label Spirit will popup a window ask you the value of variable "Hire Date", you can enter a Date, or select a date from drop-down window.

Counter Variable
Date Variable.
Time Variable.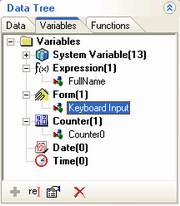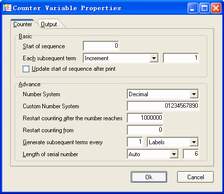 Power Functions
If you are familiar with excel, you should know the power of functions. In Label Spirit we supply about thirty functions. You can combine data from many different sources and set up advanced math, string, and logical functions using formula.