Exceptional Design Flexibility
Label Spirit gives you total control over your label's appearance, including the type and size of text,
bar codes and graphics. Place objects exactly where you want them. You're limited only by your imagination.
Import and Export Graphics
It's easy to add company logos and pictures of products. Label Spirit supports most major graphic formats. You can also export bar codes for use in other software packages.
BMP, JPEG, TIFF, ICO, EMF, WMF, PCX, PNG, EPS, DCX, PCC, PBM, PGM, PPM, AFI, VST, TGA, etc.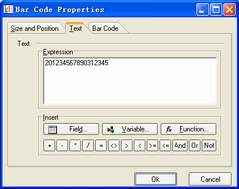 Conditionally print text, shape, barcode, etc.
Any object in Label Spirit can be set to print only if certain conditions are met.

Support 1D and 2D barcodes
Insert any of more than 30 industry standard barcodes on your label. Encode more data in less space using 2D barcodes: PDF417, MAXICODE, QRCode and Data Matrix. Apply various customizable formatting and quality control options, such as color, readable text font and placement, rotation, etc.
Code 39, Code 39 Full ASCII, Code 93, Code 93 Full ASCII, Code 2OF5 Standard, Code 2OF5 Interleaved, Code 2OF5 IATA, Code 2OF5 Matrix, Code 2OF5 DataLogic, Code 2OF5 Industry, EAN8, EAN8P2, EAN8P5, EAN13, EAN13P2, EAN13P5, EAN128, Code128, Code128A, Code128B, Code128C, UCC128, UPCA, UPCAP2, UPCAP5, UPCE, UPCEP2, UPCEP5, CodaBar, MSI, ISBN, PDF417, MAXICODE, QRCode and Data Matrix